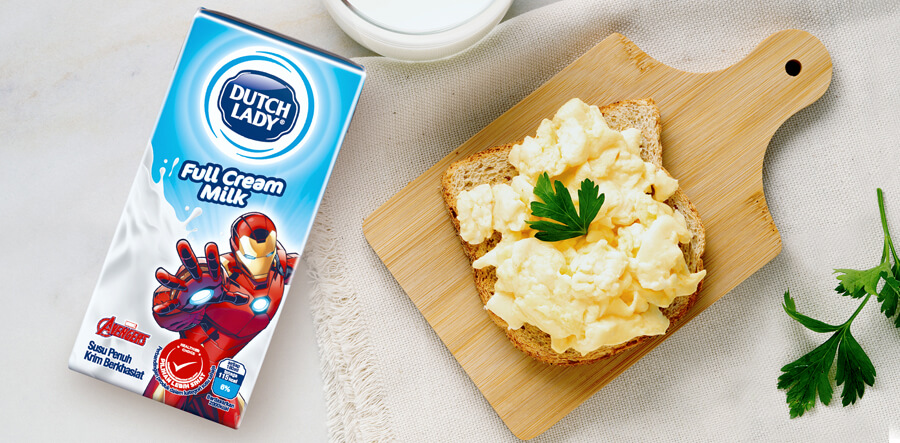 5-minute Scrambled Eggs
5-Minute Omelette Supreme - 5-Minute Scrambled Eggs
Have you ever wanted to try a different yet healthy recipe for your kids' breakfast as you deal with morning rush? Here's an easy scrambled egg recipe with only 5-ingredients that will give you soft, creamy and delicious eggs in just 5 minutes. Your kids and family will definitely love this succulent, soft and appetizing scramble eggs that melts in your mouth.
You can choose to load up your scrambled eggs with cheese, sour cream and other ingredients of your choice or just go plain about it. It just takes 5 minutes!
Some pro-tips when cooking this scramble eggs to make them soft and smooth - remember to scrap the sides and bottom of the skillet so you just don't overcook the mixture. Also, taking the pan off the heat immediately when it start drying up is something you must remember to have that perfectly scrambled eggs. Happy cooking!
Ingredients
8 large eggs
1/4 cup Dutch Lady Full Cream Milk
Salt and freshly ground black pepper, to taste
1 1/2 tablespoons butter
Steps
1

Whisk together the eggs, milk, salt and pepper.

2

Melt butter in a large skillet over medium heat.

3

Add eggs, and cook, stirring occasionally, until they just begin to set. Continue cooking until your desired consistency or no visible liquid egg remains.

4

Enjoy!