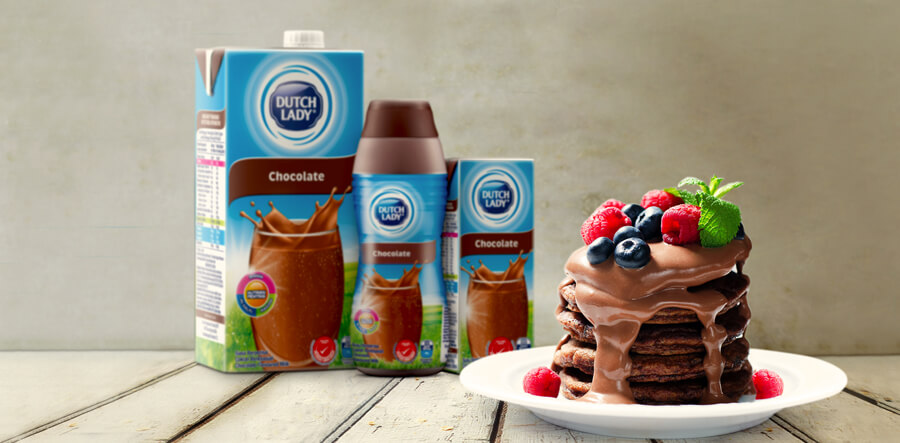 Choco-Lover's Pancakes (6 servings)
Choco Pancakes
Can't have enough of pancakes? Try out this easy homemade pancake recipe today with Dutch Lady Chocolate Milk (Flavoured Milk). Your family will definitely love this delicious choco pancakes recipe that's perfect for breakfast or even snack time.
Rushing in the morning? With this easy chocolate pancakes, you can get your breakfast ready in under 30 minutes and that too, a delicious one! Whether you love chocolate or are looking for a perfect snack recipe for your kid, you will surely love this Chocolate Pancake recipe that is easy to make and hard to miss.
The best part about this recipe is you can find most of the ingredients in your pantry. Top it off with chocolate ganache and you are surely in chocolate heaven for a fresh start to the morning.
Ingredients
2 egg yolks
2 egg whites, whipped
3 tablespoons sugar
1 ⅓ cups Dutch Lady chocolate flavoured milk (315ml), more if the batter is too thick
3 tablespoons butter, melted
1 teaspoon vanilla extract
1 ½ cups flour (185g)
¼ cup cocoa powder (30g)
2 ½ teaspoons baking powder
3 ½ oz chocolate (105g), finely chopped
1 tablespoon butter, or oil for cooking
Chocolate Ganache
1 cup heavy cream (240mL)
8 oz chocolate chips (175g)
Raspberry, for garnish
Steps
1

In a large bowl, mix together yolks and sugar, while still whisking, add milk

2

Carefully fold in whipped egg whites. (It's better to use a spoon rather than a whisk.)

3

Add and mix the melted butter and the vanilla.

4

In another large bowl, mix the sieved flour, cocoa powder, and the baking powder.

5

Form a little well in the middle and pour the milk and eggs mixture. Stir until the batter is smooth.

6

Mix in the chopped chocolate. Let the batter sit for 15-20 minutes.

7

To make the ganache, in a small saucepan, heat the heavy cream, without letting it boil.
8

Take off the heat, mix with the chocolate chips until perfectly smooth.

9

Over low to medium heat, pour ¼ cup (60 ml) of pancake batter on a well-oiled pan.

10

When bubbles start to form on the surface of the pancake, flip and cook it for a minute on the other side.

11

When the pancakes are ready, pour the chocolate ganache on top. (If the ganache has hardened while you were making the pancakes, you can microwave it for 15-20 seconds.)

12

Garnish with raspberries. Enjoy !
The Secret to Perfect Choco Pancakes Recipe
Who doesn't fancy a rich chocolate flavour? For this recipe, cocoa powder, chocolate and chocolate chips are used to make sure that it is packed with choco goodness. What makes this evenmore awesome is the use of Dutch Lady Chocolate Flavoured Milk in this recipe, making the pancakes flurry, delicious and nutritious.
While the choco pancakes recipe may seem a bit daunting, it is a beginner's level recipe. You can have thick, fluffy and delicious chocolate pancakes ready in under 30 minutes.
Try this easy recipe with the following steps and satisfy the inner chocoholic in you or your child. You surely do not want to miss this recipe for a healthy start to your morning.