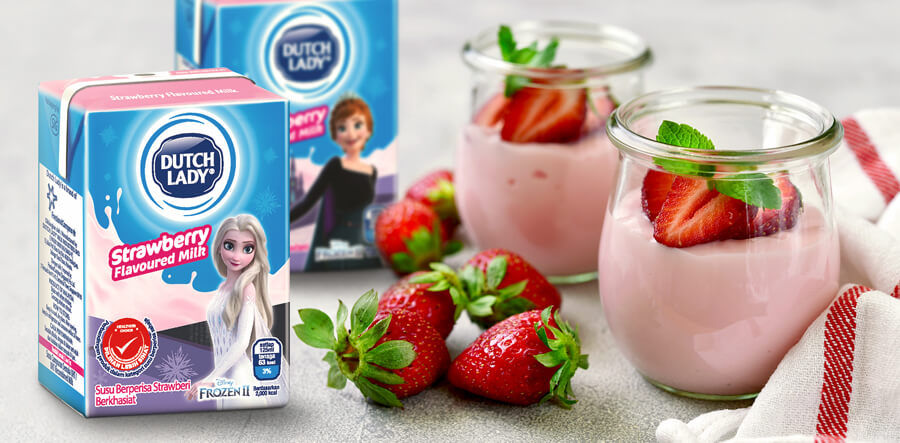 Yummylicious Milk Pudding
Yummylicious Milk Pudding
Need some easy recipe ideas for a family-bonding moment with your little ones? Try out Dutch Lady Milk Pudding recipe. It's made with Dutch Lady Milk of your choice. Definitely a delicious and nutritious snack that no one can resist!
Children are picky eaters and they have a specific palate.. Milk puddings are one of the easiest yet nutritious bets to try for your kids. You can never go wrong with a milk pudding.. It's a healthy treat for your child while also packing in essential nutrients. You can truly rely on this milk pudding recipe to indulge your little ones.
This milk pudding is the perfect choice for breakfast or even for a healthy snacking idea. What's more interesting is you can attempt this easy recipe idea with your kids for some fun,bonding time with them!
Ingredients
Any Dutch Lady milk of your choice
50ml heavy cream
3 tbsp granulated white sugar
2.5 tsp unflavored gelatin powder
Steps
1

Add milk, cream, sugar to a large pot and mix well. Stir in gelatin with a whisk until almost dissolved.

2

Warm pudding mixture over low heat and continue to stir until gelatin and sugar are completely dissolved, making sure the mixture does not come to a simmer or boil. This should only take 1–2 minutes. Once dissolved, remove from heat.

3

Pour the pudding mixture into small bowls or jars of your choice — You should have about 4 servings.

4

Place pudding containers into the fridge to set for about 4-6 hours. Serve chilled as it is or garnish with your favourite fruit.

5

Enjoy!
Secret Ingredients for Milk Pudding?
What make the Milk pudding awesome is the use of Dutch Lady Milk to provide good dairy nutrition to your kids. You can choose Dutch Lady Flavoured Milk that your kids love to customize the milk pudding to your kids liking. You can also choose to alternate different flavors to keep the same recipe exciting for your kid. Choose from Chocolate, Strawberry, Kurma or Banana flavoured milk of your choice to have the perfect pudding to appease those taste buds. Make sure to check out all our exciting flavors here.