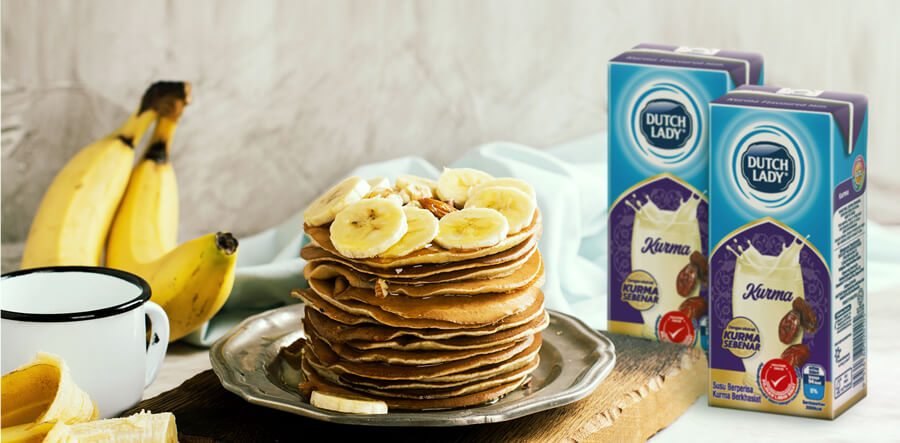 Mama's Kurma Banana Pancakes
Mama's Kurma Banana Pancakes
Fancy starting your morning with some fluffy banana pancakes? Here's an easy yet delicious Kurma Banana pancake recipe using Dutch Lady Kurma Milk (Flavoured milk). You can try this wholesome recipe as a fun addition to your breakfast or to a kid's snack.
What about banana pancakes with a bit of maple syrup topped with bananas and sprinkles with some chocolate powder?. Sound nice, doesn't it?
You can also turn the pancakes into Chocolate banana pancakes by replacing the milk with Dutch Lady Chocolate Milk (flavoured milk). Let's find out what you will need to make this recipe work for you.
Ingredients
1 ⅓ cups wholemeal flour (if you don't have this, all-purpose flour works too!)
2 tsp baking powder
1 tsp ground cinnamon
1 pinch of salt
1 large ripe banana
1 egg
1 cup Dutch Lady Kurma flavoured milk
¼ cup Dutch Lady natural low fat yogurt
1 tsp vanilla essence
Steps
1

In a large bowl, combine the wholemeal flour, baking powder, ground cinnamon and salt.

2

In a separate smaller bowl, mash the banana. Add the egg, Dutch Lady Kurma flavoured milk, Greek yogurt, and vanilla. Whisk everything to combine.

3

Make a well in the flour mixture and pour in the wet mixture, then stir gently just until everything is combined and there are no dry clumps left. Don't over-stir, or you'll end up with hard, tough pancakes!

4

Heat a pan over medium heat, melt some butter or use non-stick cooking spray to coat the pan.

5

Add in ¼ cup of the batter to the pan. Let it cook until bubbles start forming on the surface. Flip and cook for another 1-2 minutes. Repeat with the rest of the batter.

6

Serve with maple syrup or any toppings you prefer. If not serving straight away, let the pancakes cool completely then store in a container in the fridge. In the morning for sahur, put your pancakes on a plate, cover with a paper towel and microwave for about 30 seconds.
What You'll Need
It is important to get the right ingredients. And the pro tip for making sure this recipe work for you is to use ripe bananas and wholemeal flour(all-purpose flour works too). This will make it even more wholesome and healthier, packed with vitamins and nutrients for you and your family
It is one of the easiest and healthiest breakfast recipes. Try this out using Dutch Lady Chocolate Milk (Flavoured milk), egg and natural low-fat yogurt which adds a fluffier texture to your banana pancake recipe.
Want to make it more flavoursome with extra nutrition? You can add ingredients like cinnamon, fennel seeds or cardamom to flavour the pancakes.
Let's dive into the recipe and start making some delicious andfluffy banana egg pancakes with step by step instructions.