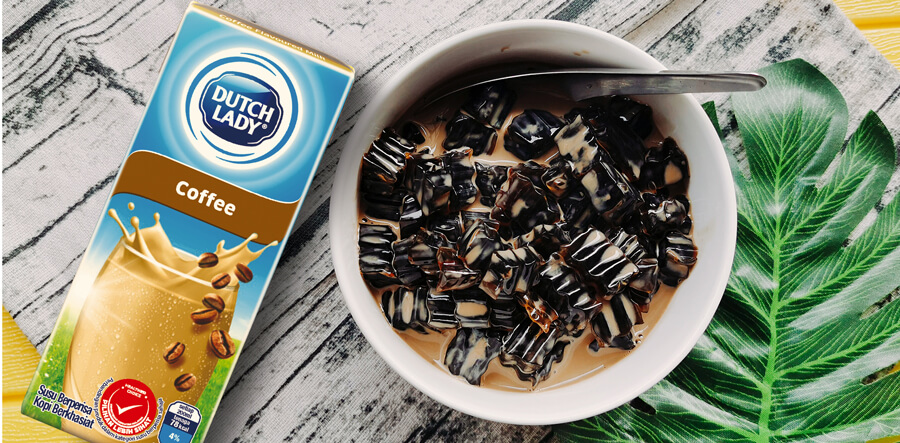 Grass Jelly Coffee Milk
Grass Jelly Coffee Milk
Need a kick for your snack time? Try out this yummylicious beverage idea with Dutch Lady Coffee Milk (Flavoured Milk) topped with Malaysia's local favourite grass jelly aka cincau.
Let us share with you the perfect coffee-flavoured milk recipe with a twist of our own with the local favorite grass jelly. With the strong Coffee aroma, creamy milk and smooth grass jelly, it's definitely something to give you a kickstart to the day or perfect as a healthy snacking option.
Ingredients
1 box of grass jelly
2 very cold Dutch Lady coffee flavoured milk
Steps
1

Cut the grass jelly into half-inch cubes.

2

Place about ¼ cup of glass jelly into two mugs. Keep any leftover jelly in a covered container and keep it in the fridge.

3

Stir together the cooled Dutch Lady coffee milk.
4

Pour out into your glass of choice and serve.

5

Enjoy!
The Key Ingredients
All you need are two ingredients, the Dutch Lady Coffee Flavored Milk and Grass Jelly, and you are almost done. With Dutch Lady flavored milk, packed with protein and calcium, you will surely get the right nutrients while enjoying this guilt-free indulgence.
Want to explore the Grass Jelly Milk with other flavours? You may find other Dutch Lady Flavoured Milk here or if you are looking for some healthy recipe inspiration, then you can check out some recipes here.