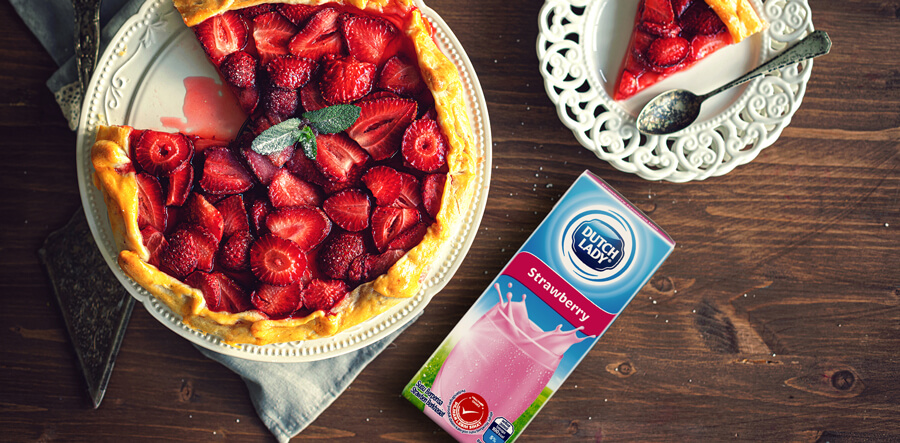 Yummy Strawberry Milkshake Pie
Yummy Strawberry Milkshake Pie
Thinking of having milkshake and pie to indulge in for your snacking time but can't make up your mind? Why not haviethem both in one dish to start your morning strong? Let's attempt this yummy Strawberry Milkshake Pie with your all-time-favourite Dutch Lady Strawberry Milk (Flavoured Milk). This rich and flavorful dessert will definitely be lovedby you and your family and will be good enough to satisfy everyone's dessert cravings. You can also customize the recipe by adding different toppings likewhipped cream, chocolate, fruits, nuts and etc.
Pro Tip: There is nothing better than fresh strawberries. For this specific recipe, if you are using frozen strawberries, thaw and chop them first to see how sweet they are. It will help you determine whether you need to add that extra sugar or you can just use the natural flavours of the strawberries
Ingredients
Filling: 1 pound fresh strawberries, hulled and sliced
1/4 cup extra fine granulated sugar
1 quarter vanilla ice cream
1/2 cup Dutch Lady strawberry flavoured milk
Waffle Cone Crust
8 waffle cones
5 tablespoons unsalted butter, melted
1/4 cup extra fine granulated sugar
Steps
1

In a bowl, add the sugar sliced strawberries. Let marinate for about 30 minutes, until they are nice and juicy.

2

Meanwhile prepare the crust. Using a blender or food processor, crush the waffle cones until they are fine crumbs crumbs. Mix in melted butter and sugar until the consistency of wet sand. Pour and press evenly into a pie plate. Refrigerate until ready.

3

Once strawberries are juicy, blend together with ice cream, milk and strawberries until smooth. Pour into prepared crust and place in freezer for 4 hours, or until set.

4

To serve, let pie thaw for 10 minutes before slicing and top with whipped cream if desired.