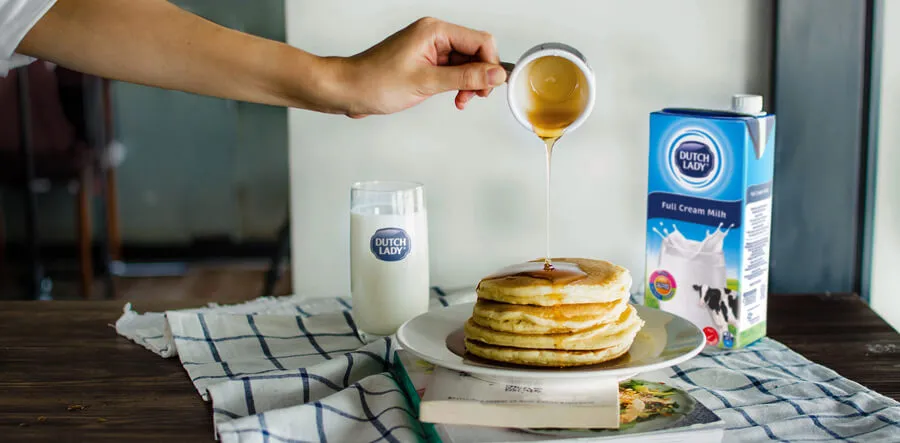 Fluffy Breakfast Pancakes
Fluffy Pancakes
Healthy breakfast is what you need to kick start your day! What can be better than the fluffiest pancakes?
Here is a recipe of fluffy pancakes that can bring smile and nutrition to your table. Wholesome ingredients and homemade pancakes are a dream combination. The protein and calcium in Dutch Lady Milk will complete the basic requirements for all family members.
Some fun-facts to brighten up your day - dido you know that Romans made the first pancakes in 1st century AD? They were fried concoctions called "Alita Dolcia" and were made from milk, flour, eggs and spices. How interesting to have spices in pancakes! And do you know the world's largest pancake was made in 1944 in Manchester, England?It weighed around 6614 pounds. Wewonder how much effort it took to make this giant pancake! Feel free to share with us if you have any other fun facts about pancakes.
Now let's dive into this fluffy pancake recipe! Don't forget that you can serve these pancakes however you like - you can serve them with maple syrup, butter, jam or any desired topping. You can also add fruits to enrich the taste and color. What areyou waiting for? Try this pancake recipe today!
Ingredients
1/2 teaspoon salt
1 egg
1 cup Dutch Lady +Protein milk
1 cup all-purpose flour
1 tablespoon vegetable oil
2 tablespoons sugar
2 teaspoons baking powder
2 tablespoons unsalted butter
Steps
1

Mix the flour, salt, sugar, and baking powder in a small bowl.

2

In a separate bowl, whisk the egg, butter, and Dutch Lady milk.

3

Mix the flour mixture and wet mixture until just combined.

4

Lightly oil a pan or skillet and place over medium heat.

5

2-3 tablespoons of batter into the pan to make 1 pancake.
6

Cook until the pancake's surface is covered in bubbles, and then flip it over and cook until both sides are golden brown.

7

Repeat until the batter is finished.

8

Serve with maple syrup, butter, jam or any desired topping.

9

Enjoy!