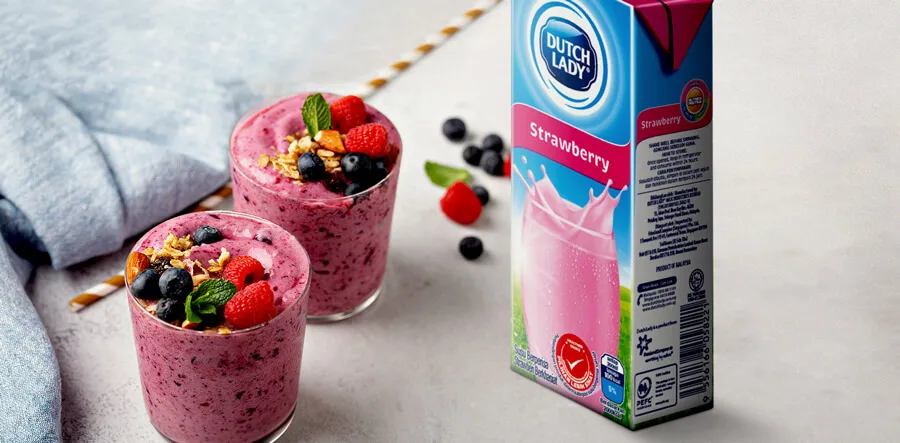 Berry Blast Milkshake (2 servings)
Berry Blast Milkshake - Strawberry Milkshake
Are you looking for a perfect and nutritious breakfast to start your day strong? What could be better than an easy-to-make strawberry milkshake that is nutritious and delicious at the same time? Yes, that's possible!
Since it's the perfect season to indulge in some extra milky treats, let's take a look at the quick-to-make strawberry milkshake that is loaded with healthy flavors.
There are plenty of strawberry milkshakes you may have tried but nothing can beat a homemade, classic creamy milkshake that is done just right with the ingredients customized to your own liking.
Having a strawberry milkshake is the best treat you can have this season. If you are not a strawberry fan, you can always choose the variation with berries of your choice. A little bit of berrysome goes a long way on a chilly morning.
Ingredients
Very Berry Blast
⅔ cup of Dutch Lady strawberry flavoured milk (160ml)
2 cup of mix raspberries, blueberries, acai berry (300g)
3 tablespoons of Dutch Lady natural low fat yoghurt
¼ cup ice cubes (50g)
Steps
1

In a blender, combine the milk and the other ingredients.

2

Blend until smooth.

3

Enjoy!
Things to Remember
When it comes to strawberry milkshakes, the rule of thumb says to keep it simple and natural. Since there is nothing gourmet about this recipe, the end goal is to achieve a thick, creamy and pale pink strawberry milkshake that actually tastes like one and not some artificial flavor. It should also be perfectly done without any icy chunks.
This strawberry milkshake recipe is surely going to be a favorite for your family for days to come. You can always try out the milkshake of your choice by using your favourite choice of Dutch Lady milk. Start your morning with a Dutch Lady Milkshake for a refreshing and strong start to the day!
We've included a step-by-step guide as follows. Happy Slurping. Your perfect strawberry milkshake within minutes to kick off your day. What more can you ask for than a simple treat? Enjoy!