Dutch Lady Milk Industries Berhad (DLMI) realises that milk is an important source of nutrition in the development of our physical and intellectual health. That is why, we have made it our mission to help spread the goodness of milk and champion causes related to nutrition. We continuously play an active role in supporting smart partnerships with the Government and key stakeholders through sponsorships and donations of our dairy products helps us to continue nourishing the community to ensure the well-being, health and nutritional status of families and children in Malaysia.
The find ings from the South East Asian Nutrition Survey (SEANUTS) shows Malaysian children drink only half a serving of milk a day (only 5% of children actually meet the recomm ended 2 servings of milk a day) gives DLMI more reason to continue providing nourish ment to the community.
Nourishing the urban poor children at Public Housing Projects (PPR)
Based on the findings of the UNICEF Malaysia study on Urban Child Poverty and Deprivation in 2018, DLMI realised that there are pockets of poverty in the community that are unable to fulfill their nutritional requirements. We are also aware that nutrition plays a vital role in the growth and development of a child, especially in their growing-up years. To help reduce the nutritional gap that exists in Malaysi a, DLMI made the decision to actively address the plight of the urban poor by providing nutritious milk to primary school children in 2018.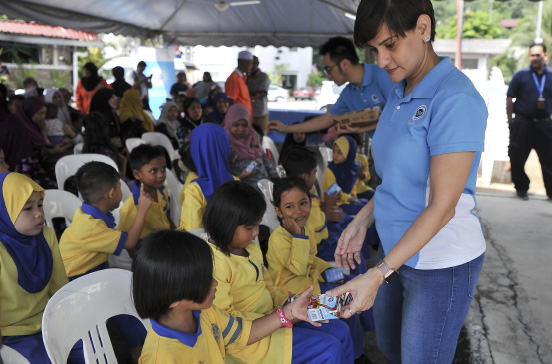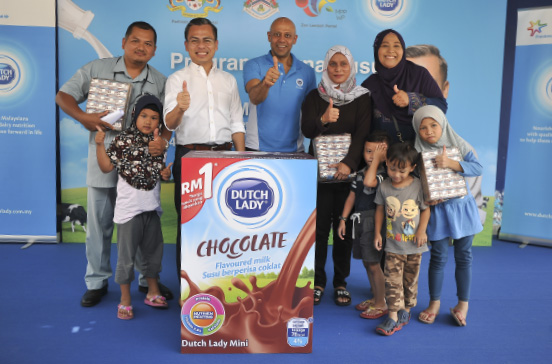 Launch of Program Cakna Susu in Lembah Pantai constituency
In 2019, twenty families from the Kampung Limau PPR flats were identified by Y.B. Fahmi to receive 1 carton of DLMI's Rakyat Pack per month for 6 months to ensure the children of these families have access to dairy nutrition.
Programmes such as "Program Cakna Susu" provides DLMI with the ideal platform to continue our mission of nourishing Malaysians and in helping the Government to address the dual burden issue of undernutrition and overnutrition in Malaysia.
World School Milk Day
In 2019, we commemorated DLMI's World School Milk Day by partnering with the Ministry of Education (MOE) in a month-long Healthy Meal campaign. Over 3,000 primary and secondary school children in Kuala Lumpur will benefit from the campaign. Y.B. Puan Teo Nie Ching, the Deputy Minister of Education Malaysia was present to officiate the event.
The campaign highlighted the need to cultivate healthy diet habits early in children. To encourage Malaysians to live a healthy lifestyle, the campaign also helped raise awareness on the imporance of educating teachers and students on food nutrition.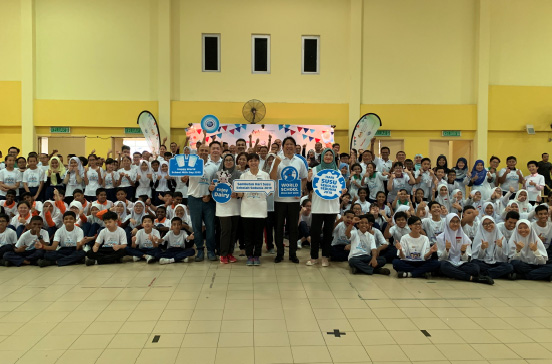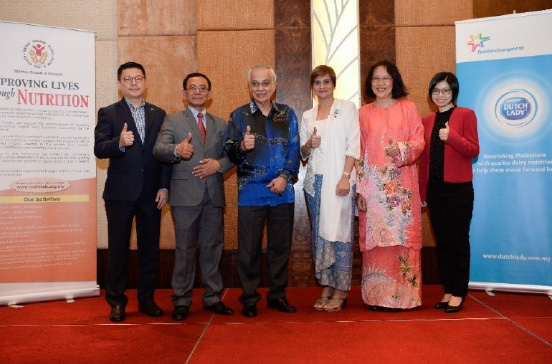 Xchange Talk: Current Nutritional Issues and Intervention Programmes For School Children in Malaysia Symposium
In 2019, DLMI collaborated with the Nutrition Society of Malaysia to organise a symposium focusing on "Current Nutrional Issues & Intervention Programmes For School Children in Malaysia".
More than 100 representatives from multiple government agencies, professional bodies, academicians and nutritional experts participated to exchange ideas and views on addressing the nutritional issues of school children in Malaysia.The symposium provided an ideal platform for participants to offer comprehensive nutritional knowledge and establish the importance of dairy consumption in achieving a balanced nutritious diet. The event further helped to set the stage for the Government, professional bodies, academicians and DLMI to address nutrional challenges of the country for the good of the future generation of Malaysia. DLMI seeks to continuously advocate the crucial role of milk as one of the solutions to nutrition problems amongst children.