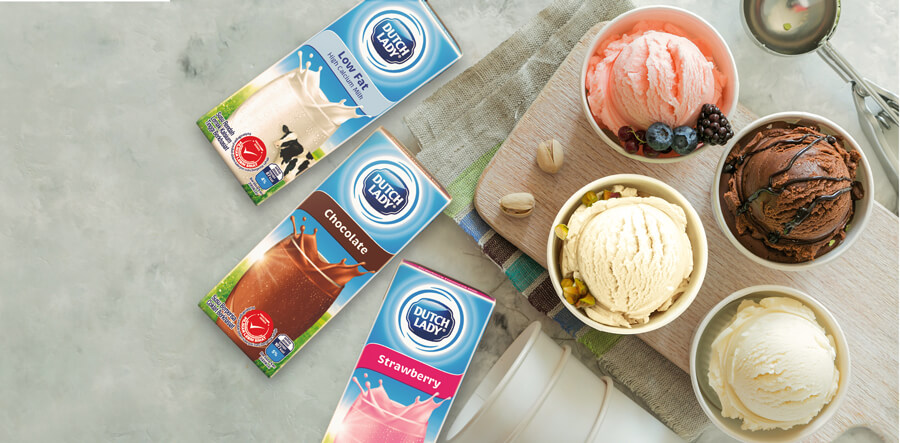 Homemade Ice-cream
Homemade Ice Cream Recipe
Is the weather too hot? Don't want to give your kids too much snacks or ice cream? Looking for some sweet-treats for your family but do not want to forego the nutrition aspect of it? Why not try a delicious yet nutritious Home-made Ice Cream with Dutch Lady Milk for your snack time? It's delicious and refreshing! It's always nice to reward and pamper yourself, your family or even your kids with refreshing yet healthy treats! You can even do this together with your kids and family; another great idea while staying home. Do not forget to level-up this homemade ice cream with toppings like fresh fruits, nuts, chocolate chips or any other garnish that you and your family like.
Ingredients
3/4 cup white sugar
1 cup heavy whipping cream
2 1/4 cups Dutch Lady plain or flavoured milk of your choice
2 teaspoons vanilla extract
Steps
1

Stir sugar, cream, and milk in a saucepan over low heat until sugar has dissolved and a small ring of foam appears around the edge.

2

Transfer cream mixture into a pourable container such as a large measuring cup. Stir in vanilla extract and chill in the refrigerator for at least 2 hours, although overnight is best.

3

Pour the cold ice cream mixture into an ice cream maker, turn on the machine, and churn according to manufacturer's directions, for at least 25–30 minutes.

4

When ice cream is softly frozen, serve immediately or place a piece of plastic wrap directly on the ice cream and place in freezer for 2 to 3 hours.

5

Serve and enjoy!