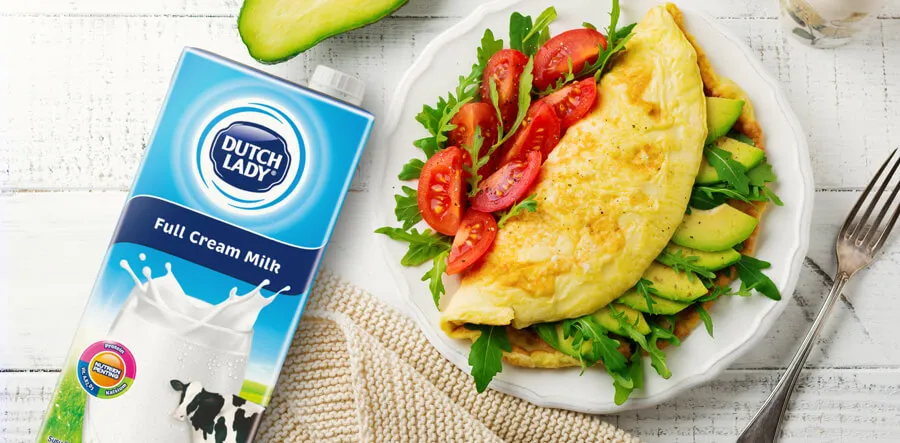 5-Minute Omelette Supreme
5-Minute Omelette Supreme - Omelette Recipe
Craving a savory yet nutritious breakfast but have no time for it? Here's aneasy omelette recipe. You can now get your craving fix in 5 minutes with our fluffy omelette recipe made with your favourite Dutch Lady Full Cream Milk. Afterall, who doesn't love fluffy and creamy-smooth omelette for breakfast?
Even if you are making it for the first time, you can still have a fluffy omelette if you follow some simple rules. When you pour the egg mixture, try using a spatula to move the eggs into the centre of the pan. Try tilting the pan around so that any uncooked mixture is spread evenly across the pan and your omelette is well cooked.
Some fun facts before you try out this omelette recipe, do you know that there's a difference between omelette recipes in different countries? For example, the difference between the French omelette and the American omelette is the dragging method. In a French Omelette, the eggs are whisked in the pan to create scrambled egg like structure and then rolled into a log. In an American omelette, you push the cooked eggs to the inside while the uncooked mixture to the outside.
Ingredients
2 eggs
2 tablespoons Dutch Lady full cream milk
1 tablespoon butter
Salt, to taste
Ground pepper
Filling of your choice e.g.: cheese, chopped tomatoes, cooked mushrooms (optional)
Herbs to garnish (optional)
Steps
1

Crack the eggs into a mixing bowl and beat them until they turn pale yellow.

2

Heat a heavy-bottomed 6 to 10-inch nonstick sauté pan over medium-low heat. Add the butter and let it melt.

3

When the butter in the pan is hot enough, pour in the eggs and let the eggs cook for up to a minute or until the bottom starts to set.

4

With a heat-resistant rubber spatula, gently push one edge of the egg to the center of the pan, while tilting the pan to allow the still liquid egg to flow in underneath. Repeat with the other edges, until there's no liquid left.
5

If you're adding fillings, now's the time to do it. Spoon the filling on one half of the omelette.

6

With your spatula, lift one side of the egg and fold the omelette in half. Cook for another minute or so, making sure it doesn't overcook.

7

Gently transfer the finished omelette to a plate. Garnish with fresh herbs.

8

Serve and enjoy!