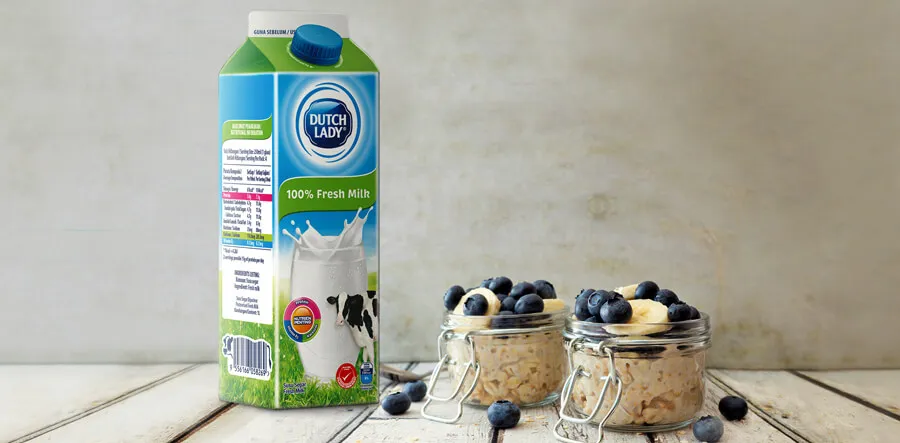 Banana Bread Overnight Oats (1 serving)
Overnight oats
Morning rush? Prep a hearty and nutritious breakfast the night before for your grab and go morning. Prepare overnight oats with Dutch Lady Milk and ingredients of your choice and share your recipe with us now!
Overnighs oats is for one of those quick-fix mornings and is a breakfast recipe that is suitable for everyone in the family. It is one of those healthy and nutritious breakfast meals that requires very little preparation. You can also enjoy this on those lazy mornings when you don't want to get out of bed and put in that extra effort. You can always add seasonal fruits and nuts to enhance the taste in the morning or you can just try the recipe directly without adding any extra topping. It all depends on your own preference and liking. If you want more easy and quick breakfast ideas, you can head over to our recipe section here.
Some fun facts on overnight oats - do you know that it has a long history to it? It was first developed around 1900 (yes you read that right) by a Swiss physician, Maximilian Bircher-Brenner as a popular breakfast throughout Switzerland and Germany. The original recipe used more fruits than nuts.
Ingredients
Very Berry Blast
½ cup quaker rolled oat (40g
100ml Dutch Lady fresh milk
50g Dutch Lady natural low fat yogurt
½ banana, sliced
¾ teaspoon vanilla extract
⅕ cup pecan (15g), chopped
Steps
1

Add all of the ingredients except the banana and pecans to a clean jar of your choice.

2

Stir everything together.

3

Top with banana slices and pecans.

4

Cover and refrigerate overnight.

5

Enjoy!