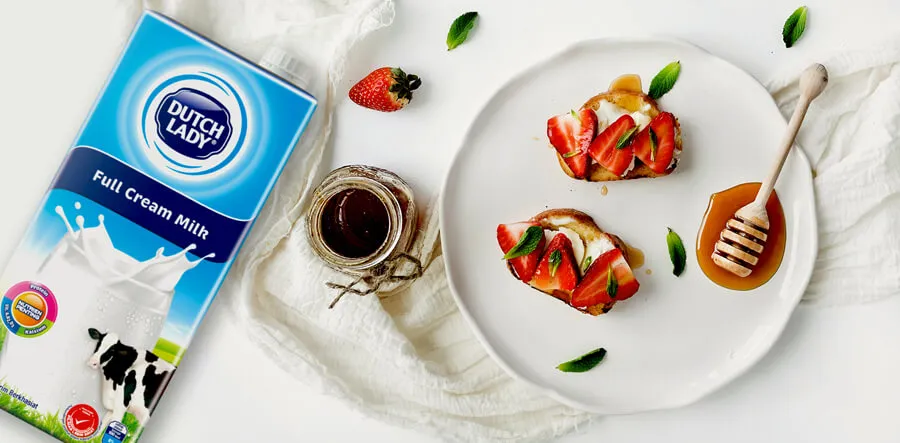 Strawberry Cheesecake French Toast (2 Servings)
Strawberry Cheesecake French Toast
Need some fancy breakfast idea but can't decide between Strawberry Cheesecake or French Toast? Why not have both? Try this delicious Strawberry Cheesecake French Toast at home with your loved ones using your favourite Dutch Lady Full Cream Milk.
This is one of the best breakfast recipes that my family loves to indulge in on special occasions. There is nothing better than having the best of both, breakfast and brunch with strawberry cheesecake French toast that makes for an indulgent treat any day.
Since holidays and weekends are the ideal time for celebrations and family get-togethers, it is the perfect time to try out this gourmet recipe.Your family will cherish the dreamy goodness that it has to offer with a touch of good dairy nutrition from Dutch Lady Milk. The best part is it is an easy recipe to try out.
If you fancy going to your favorite brunch or breakfast place for strawberry cheesecake French toast, why not attempt to make it with your family over some good bonding time as well?
Once you try it, you will surely know why it makes for an ideal entreefor a hearty weekend breakfast. You can serve it alongside eggs of your choice. Let's bring new flavors to your breakfast table for those special occasions.
Ingredients
Egg wash
4 eggs
1 cup of Dutch Lady full cream milk (240ml)
1 tablespoon vanilla extract
1 tablespoon cinnamon
Filling
115g cream cheese, warmed
2 tablespoons vanilla extract
2 tablespoons lemon juice
¾ cup heavy cream (180ml)
1 ½ cups strawberries (225g), diced, divided
⅓ cup sugar
Topping
Icing sugar
Maple syrup or honey
Steps
1

Whisk eggs, cinnamon, vanilla, and milk together in medium-large bowl to make the egg wash.

2

In a medium bowl, combine the cream cheese, vanilla, sugar, lemon juice and heavy cream to make cheesecake mixture

3

Take 2 slices of bread, cut them into heart shapes, and spread the cheesecake mixture on one side of each slice.

4

Place sliced strawberries on both sides, and form a sandwich.
5

Dip the sandwich in the egg wash to coat.

6

Melt the butter in a skillet on medium-low heat and cook for 2-3 minutes or until crumbs are crispy and the bread is golden brown.

7

Stack and garnish with strawberries and confectioners' sugar. Top with maple syrup or honey, to your liking.

8

Enjoy!
The Secret Ingredient
What makesthis French Toast healthy and wholesome? Dutch Lady milk that's packed with protein, calcium and other essential nutrients are the key ingredients, making it the rightrecipe to start to your day. You can enjoy your healthy breakfast and meals without compromising on health with our products.
Besides better nutrition, Dutch Lady Full Cream Milk also adds a fluffier texture and flavour to the French toast. Also, don't forget to take it up a notch with some fresh strawberries and cinnamon or other toppings of your choice to make your Strawberry Cheesecake French Toast more exciting. You can also top it off with some whipped cream, icing sugar, maple syrup or honey.
Enjoy and happy indulgence!
If you want more delicious and healthy recipes, head over to our recipe section to find out more.